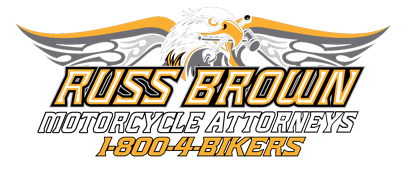 The "If You Build It They Will Come" all brand motorcycle show presented by Russ Brown Motorcycle Attorneys!
Motorcycle accident personal injury lawyer Russ Brown has been the preferred motorcycle personal injury attorney serving the motorcycling community nationwide since 1975.
Have you been injured in a motorcycle accident? Regardless of whether it was a minor bike accident or major crash, Russ Brown is your best resource to ensure you are being protected and that you are getting the best compensation possible for your accident.
Winning Millions For Injured Motorcyclists since 1975.
Russ Brown, Chuck Koro & Jim Romag, only focus on motorcycle injury accident law. Lawyers Russ, Chuck and Jim are riders within the community and they truly care about the bikers they represent.
Call for your FREE CONSULTATION NOW! 1-800-4-BIKERS
We Ride We Care We Win! We know the ins and outs of motorcycle accidents and know how police reports can go against the biker unfairly. Some people out there still have negative opinions about 'bikers' and this can affect what you may face at the scene of the accident and in a court of law.
You deserve the best - We will fight for your rights and to get you the compensation for your motorcycle accident that you deserve.